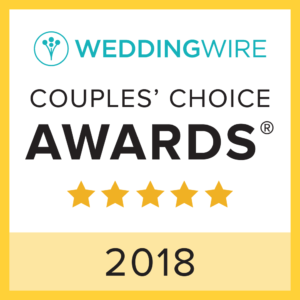 In some of my earlier blogs I've tried to cover wedding trends and how it is important as a wedding professional to stay abreast of what is happening in weddings around the world. My couples find it very helpful as well to be able to access information on these trends, as it helps them understand the process and enables them to make the informed decisions they need to craft their wedding into the event they have dreamed about!
My goal is to reach out and work with my couples to create the perfect day. Just because it is one of the most important days of your lives doesn't mean it should be painful …quite the opposite! It should be a day filled with joy, love, and laughter – dreams coming true and dreams to come.
If you're interested in viewing a comprehensive look at the 2018 current wedding trends among Brides and Grooms, please follow this link to WeddingWire: 2018 Wedding Report. Web sites and publications such as Weddingwire and The Knot are wonderful tools for couples as they work with their chosen wedding professionals. Their insight and the recommendations of my Brides and Grooms is why The Outer Banks Officiant was the 2018 Couples Choice Award Recipient in the Wedding Officiant category!
If you have any questions about current trends or how you can incorporate them into your big day, please email me at randebanks@theouterbanksofficiant.com or visit my Facebook page The Outer Banks Officiant!