I feel that Rande has become part of my family after our wedding. I cannot say enough nice words about him. He is so sweet and genuine, and when I was searching for a wedding officiant, I took the time to actually sit down with some officiants and get to know them. In my opinion, officiants hold the biggest role of the entire wedding—after all, they're the ones who actually marry you and your husband!
We both agree that the ceremony was our favorite part of the wedding day and that's all thanks to you. Your words brought us closer together as a couple and have really inspired us to be the best husband and wife to one another we can possibly be! We received many compliments from the family for choosing you. One compliment being that you were so personable and confident. We couldn't agree more!
We would like to share with you how perfect you made our wedding day! You truly listened to us and really took the time to find out who we are as individuals and as a couple. We had the most beautiful day possible for our beach wedding. We would not change one single thing about our day.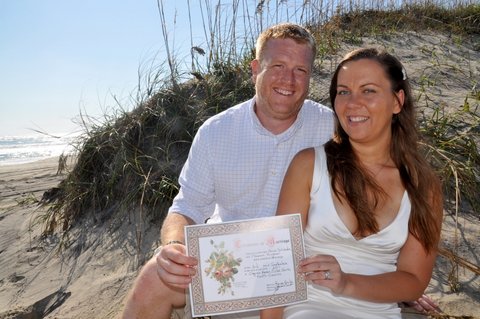 Choose Rev. Rande Banks as your Officiant, and the Banks name on your Marriage Certificate will reflect forever where your Outer Banks, NC, wedding memories began.

Born and raised on the Outer Banks of North Carolina, Reverend Rande Banks knows the communities, people, and local traditions that make for a perfect wedding here. You'll be at ease knowing you can trust an OBX native to guide your way in the area and provide advice only a local would know. In addition, Rande is a rated vendor on Wedding Wire.
As your wedding minister, Rande will assist you in scripting the wedding ceremony of your dreams, ever considerate of your vision and wishes …from the more traditional wedding ceremony in spirit to the casual beach wedding event. And whether you and your loved one have different faiths, or different feelings about faith, he will work with you to create a ceremony that affirms your faith in one another. Contact Rande to reserve your wedding date today!