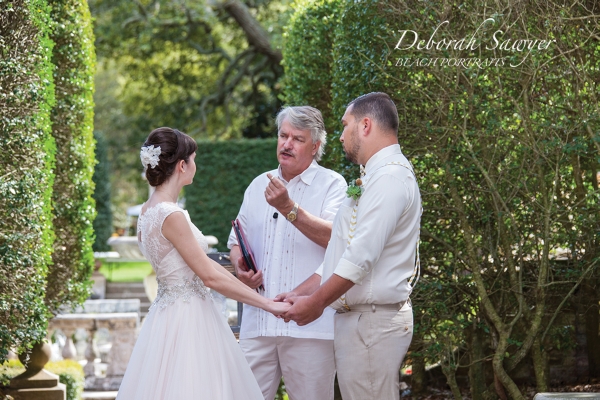 While the Outer Banks is one of the most favored areas in the nation for destination weddings, not everyone wants to "just get married on the beach". While the beach has its obvious aesthetic appeal and is ideal for a wedding, indeed even the dream of a life time for others, there are many that want to be "at" the beach, but have their ceremony in a more convenient venue. And venues abound, from the northern 4×4 only accessible areas of Carova and Swan Beach to the southernmost environs of Hatteras, there is a venue to be found that would suit most every one!
There are the lovely backdrops and landscaped backdrops of golf courses, there are waterfront Inns and B&Bs. There are the opulent settings of such manors as The Grand Ritz Palm, the 23 bedroom Wild Horse event home, or the 18 bedroom "Dream", both located in the 4×4 areas. You may envision yourself in the embracing environs of the Sanctuary Vineyards or on the grand lawn of the Historic Whalehead Club.
There is always the charm of Roanoke Island where the serenity of The Elizabethan Gardens is always a venue favorite, as well as 108 Budleigh St. or Roanoke Island Festival Park. And who would not embrace a ceremony on the dock of the Historic Marshes Light?
There are piers such as Jennette's with its gargantuan event room and balcony overlooking the ocean and of course, the Kitty Hawk Pier at the Hilton Garden Inn. And even boats! The Outer Banks Officiant has performed several on the "Downeast Rover", a rustic and able sailing charter that boards on the beautiful boardwalk in downtown Manteo.
Whatever your dream venue is, we can likely accommodate you and your guests. For additional information on possible wedding venue sites, please contact me, Rev. Rande Banks, at theouterbanksofficiant.com or visit the Outer Banks Wedding Association's ceremony and reception sites venue page.